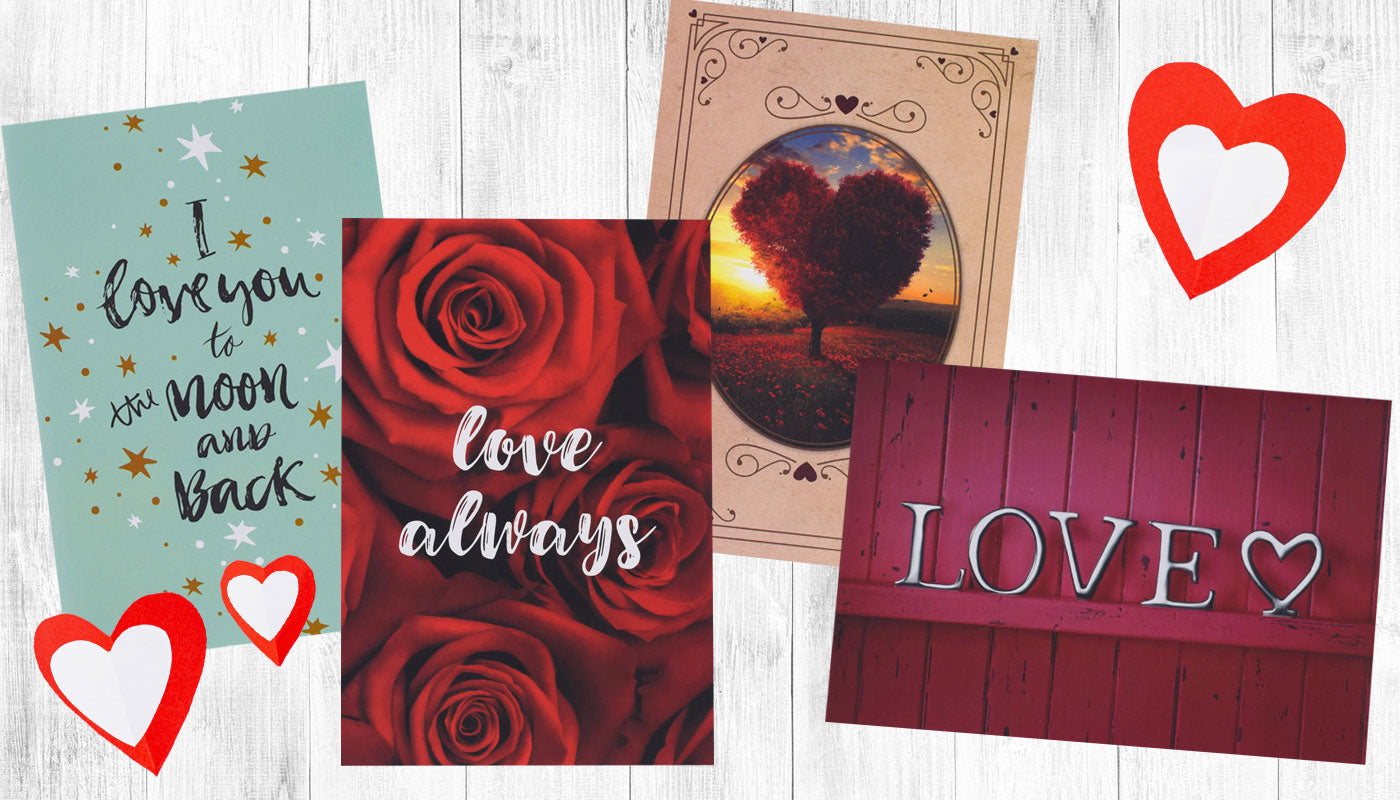 Posted on
---
Looking for thoughtful and unique ways to express your love on February 14th? Do so with sound using musical valentine cards! We have a series of recordable greeting cards that let you customize your message, both through written words and audio. With four sweet designs to choose from, plus a blank version to add your own art or handmade paper craft designs to, Invite By Voice has a card for all of your valentines.
In this article we'll talk about creative ideas to make sure everyone feels the love on Valentine's Day, including our valentine audio card kit options and romantic messages and songs. With the EZSound recordable card kits, you get everything you need to create a singing or talking Valentine's Day card: an EZSound module for greeting cards, a beautifully designed card, a double-ended audio adapter to transfer your recording to the module, and an envelope. You'll love creating personalized valentines with these convenient kits.
Valentines Day Cards for Him
Despite Valentine's Day being more geared towards men giving flowers and chocolates to women, men like to be wooed too. But great Valentine's Day cards for him can be hard to find, especially when you want to tell your guy how much you love him in a way that's as unique and inspired as your relationship.
For some, putting how much you love someone into words can be difficult; we're not all poets or skilled writers when it comes to the words of love. Thankfully, americangreetings.com has some inspiration on what to say in Valentine's Day cards for him. They break it down into Valentine's Day messages for husbands, boyfriends, and lovers, but you could use most of the messages for any version of male significant other.
Our Love Always and Rustic Love recordable greeting cards are perfect for the man who loves gazing into the face of his valentine. Really, these designs will be adored by anyone, but these two work particularly well if you want to include a photo on the inside of the card. For the Love Always card, we recommend using a 5x7 inch vertically oriented photo and a 5x3.5 inch horizontally oriented photo for the Rustic Love card.
With the classic symbol of love—red roses—as the main design, the Love Always card reminds him that your love will last forever. You can cut out and secure a heart-shaped portrait photograph to the inside of the card.
Or, if you're looking for more manly versions of Valentine's Day cards for him, the red-painted wood design of the Rustic Love musical greeting cards is a great option. It has a white-painted rectangle with heart embellishments on the inside of the card, which is the perfect size to fit a 5x3.5 inch photo.
Maybe the two of you have a special song, such as the song that was playing when you first saw each other, kissed, or danced. Make his heart sing by including that on the audio chip of the musical valentine card. If the card is for your husband, the song that you chose to dance to for the first time as a married couple at your wedding reception would be a thoughtful choice. Every time he opens the card, he'll see the face of the love of his life and remember the many joyful memories you've created together when he hears that significant song.
Children can pull at their dad's heartstrings by including a photograph of themselves in their valentine to dad and recording a message saying why and how much they love him. There's no way he won't smile when he opens that card, sees his little sweetheart's face, and hears him or her say in their own voice, "I love you daddy because you make the best pancakes, read me stories, and are my hero."
Valentines Day Cards for Her
What woman doesn't like receiving a valentine that praises her for how smart, beautiful, and loved she is? The answer: there isn't one! Find the best Valentine's Day cards for her in our selection of recordable card kits.
When you need to confess the depth of your love, the Tremendous Love design of our voice recording cards would make a great pick. The starry art features the popular sentiment "I love you to the moon and back." On the inside of the card, list off some of her characteristics, charms, values, and talents that speak to your heart; describe her beauty and how she makes you feel. Or say them with feeling and from the heart so she can hear the emotion in your voice when she opens the recordable card.
If you're more of a writer, there's plenty of room inside the card for you to go on and on and on about your great love for her. With the celestial theme of the Tremendous Love card, you could record Frank Sinatra's "Fly Me to the Moon" to the card's sound device, which is a classic, upbeat love song.
Try adding some humor to Valentine's Day cards for her—a great sense of humor is a major attraction. While the front of the card reads "I love you to the moon and back," you could write or record yourself saying "...and with technology, probably to Mars and back too, which is quite a lot farther. Like, 34 million miles.
Speaking of humor, you could also include a funny quote about love in any one of our voice recording cards. Here's a few to inspire you:
"Love is being stupid together." —Paul Valery
"Anyone can be passionate but it takes real lovers to be silly." —Rose Franken
"We're all a little weird. And life is a little weird. And when we find someone whose weirdness is compatible with ours, we join up with them and fall into mutually satisfying weirdness—and call it love—true love." —Robert Fulghum
Valentines Day Cards for Wife
Don't miss your chance to remind your wife how much you love and appreciate her this Valentine's Day. In addition to breakfast in bed, flowers, chocolate (that she'll share with you, of course), a romantic candle-lit dinner, and agreeing to watch her favorite chick flick or rom-com, you can't forget the valentine!
Doing a search for Valentine's Day cards for wife may turn up a lot of results, but none are as unique and symbolic as our design for the Love Tree talking card; it shows the sun shining on a strong tree with red leaves, which form the shape of a heart. It's an excellent way to tell your wife that your love is thriving and continues to grow.
These Valentine's Day cards for wife are extra special too because you can tell her how you feel in your own voice through the card's voice recorder. If you're a writer or musician, you could write a poem or song and record yourself reciting or singing it, but that isn't feasible for most people. However, it's easy to find love songs and poems that help you say how you feel. Just think of how much your wife would blush if she opened a card at work that played you reciting a love poem or singing her favorite love song? How thrilled would she be to hear a romantic tune and read a quote or poem about love that you wrote out by hand? Here are just a few examples of poems and quotes that would make her heart beam with love.
Time is
Too Slow for those who Wait,
Too Swift for those who Fear,
Too Long for those who Grieve,
Too Short for those who Rejoice;
But for those who Love,
Time is not.
—Henry van Dyke
all the precious words
you and i have exchanged
have found their way
into the heart of the universe
one day they'll pour on us
like whispering rain
helping us arise
from our roots again
—Jalal al-Din Rumi
"Love does not consist of gazing at each other, but in looking together in the same direction." —Antoine de Saint-Exupery
"Love is the emblem of eternity; it confounds all notion of time; effaces all memory of a beginning, all fear of an end." —Madame de Stael
"I would rather spend one lifetime with you, than face all the ages of this world alone." —J.R.R. Tolkien
And we would be remiss if we didn't include some Shakespeare:
"Doubt thou the stars are fire, Doubt that the sun doth move. Doubt the truth to be a liar, But never doubt I love." —Hamlet, William Shakespeare
Your wife would also adore the above suggestion to add your song to the sound chip—you'd score some major romantic points! If you don't have a specific song in mind and you're looking for a romantic love song to record to your valentine, Good Housekeeping has put together a list of the 50 Best Love Songs of All Time that includes a great mix of mostly timeless and a few modern love songs.
Valentines Day Cards for Mom
At a loss for words on what to say in Valentine's Day cards for mom? Want to express the special kind of love of which a mother and child share? Allwording.com has some tips and messaging for Valentine's Day cards for mom. Their "20 Sweet Ways to Wish Mom a Happy Valentine's Day" article has a mix of feel-good and humorous phrases that you could record on the sound device in one of our recordable greeting cards.
Messages such as "Happy Valentine's Day to the woman who birthed me, raised me, and still has my back after all these years. Love you, Mom," will warm her heart. Want to make mom laugh? Opt for one of the chocolate-themed messages: "If I had a chocolate for every kind thing you've done for me, I'd soon weigh 500 pounds!" or "I wouldn't trade my mom for all the heart-shaped boxes of chocolates in the world. And you know how much I like chocolate."
Like dads, moms will love receiving a talking valentine that includes a photograph from their child. With the DIY blank design, kids can add their own art too—hearts, flowers, a self portrait, a drawing of their mom, or even a Valentine's Day unicorn or turtle (whatever imaginative concept they come up with will be loved). Dads can help kids record their custom messages to mom on the recordable Valentine's Day card. What are their favorite things about their mom? You'll get some creative and sweet descriptions from the kids for Valentine's Day cards for mom.
Musical Valentine Cards for February 14th
Invite By Voice has so many creative options for musical valentine cards—which one is your favorite? Share your voice and song recording ideas for valentines with us on social media @invitebyvoice, and don't forget to order your recordable greeting card kits in time for Valentine's Day!
Quick links
Contact
Invite By Voice LLC
9935-D Rea Rd, Suite 230
Charlotte, NC 28277
info@invitebyvoice.com
About us
Since 2009, it has been our firm commitment to offer the highest quality sound products, and also provide excellent service for our customers.