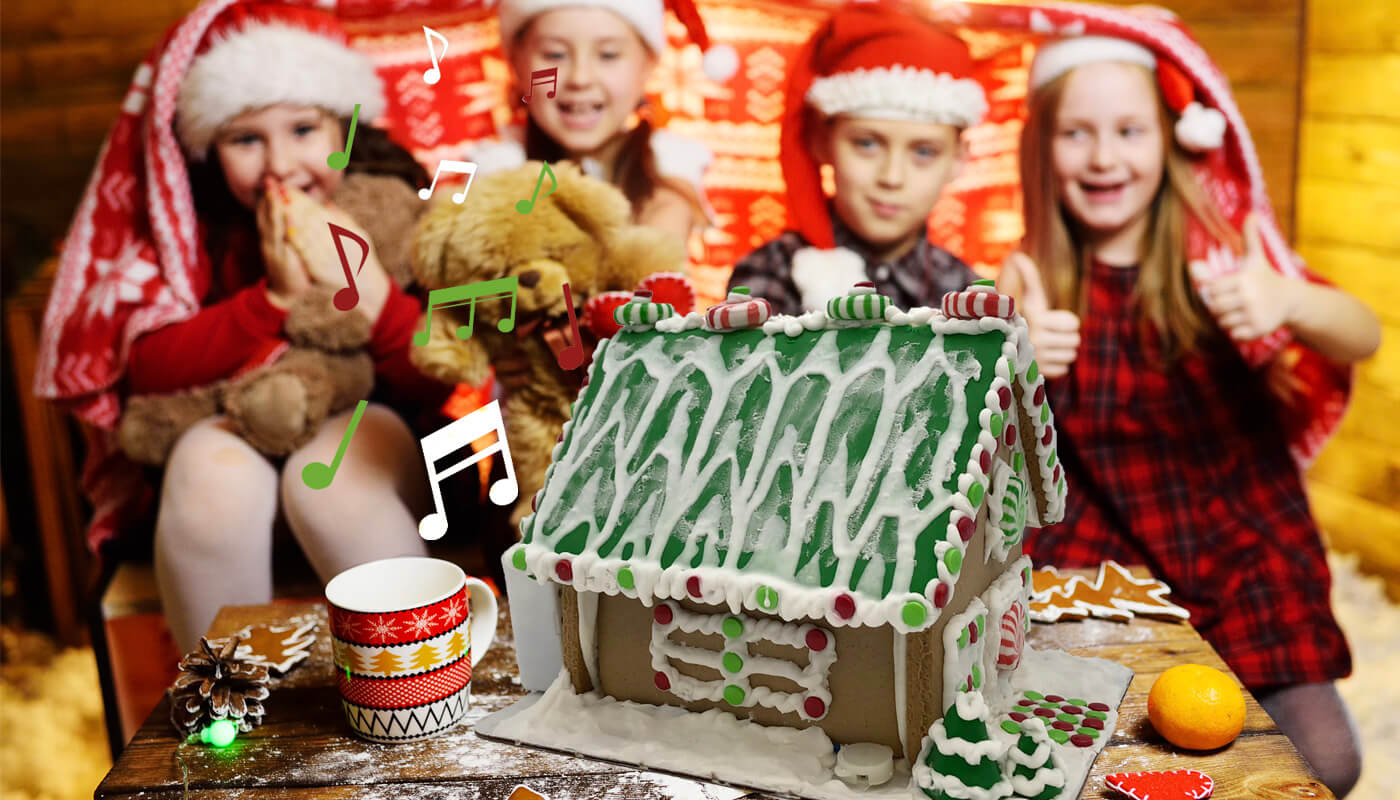 Posted on
---
For many families and groups of friends, gathering to create holiday craft projects is a time-honored tradition. Here at Invite By Voice, we want to inspire you and your craft pals to make a traditional gingerbread house extra special, just by adding Christmas music using our EZSound Box with an extension play button!
Gingerbread house kits make great holiday decorations, and after reading this post, you'll be able to help everyone at the annual craft day add their favorite holiday tune to their artistic cookie house. The jury is out on whether or not gingerbread houses made from packaged kits are actually suitable to eat after sitting out on a table or counter for sometimes up to two months, but they're just so much fun to decorate!
We have some amazing gingerbread house ideas for you in this blog post using Wilton gingerbread house kit(s); since the holidays tend to creep up on everyone, we thought we'd save some time with the Wilton Ready to Decorate Gingerbread Holiday House Kit. The house is already assembled! If you haven't had to use frosting to as cement to "build" a gingerbread or cookie house before, let me tell you, it's difficult. This kit will save you a lot of time and frustration—no dealing with walls falling over or the roof sliding off—so that you can get right to decorating and playing that Christmas music.
Best Gingerbread House Ideas: Christmas Music Playing House
The Wilton kit we're using doesn't have any set decorating instructions besides the pictures you see on the box, which gives you the freedom to create your own magical, wintry scene. If you are looking for some options for kits you can order, you should check out Good Housekeeping's article on the best gingerbread house kits.
In the slideshow, you'll see several options for kits that kids will love, such as the Mickey Mouse, Mario Bros., and The Grinch gingerbread creations; there are plenty of classic designs as well, plus a cool gingerbread lighthouse kit and ideas for adding holiday "bling" to your frosting-encrusted structure. Wilton's Mini Village Gingerbread Decorating Kit includes materials for multiple little houses—order a few and have a gingerbread house decorating party with your kids, grandkids, or friends! It's so much fun seeing the variations in designs when you get a group together, and, with how hectic the holidays can get, everyone will appreciate the fun break.
And there's no better way to add holiday cheer to your gingerbread house than by adding your favorite Christmas carol. Our recordable voice box with 10-inch extension play button works great for this project.
Before you get into embellishing your frosty winter house, track down your favorite Christmas song; I thought "Deck the Halls" would be an appropriate tune. YouTube's audio library has a decent selection of royalty-free music that you can download. Just make sure you check the attribution requirements if you plan to post a video or audio file of your project online or if you plan to sell it. I went with "Deck the Halls Instrumental" by Jingle Punks.
Once I downloaded the song, it was really easy to transfer it to the sound box. I followed the easy steps below, but you can also reference the detailed instructions included with the EZSound Box.
How to Record Christmas Music to the Sound Box
Get your audio file ready on your device
Make sure your EZSound Box has batteries and is turned on (more details here)
Plug the audio adapter (included with the EZSound Box) into the headphone jack on your computer, tablet, or smartphone
Plug the EZSound Box into the other end of the audio adapter
Press the record button on the front of the sound box (it will beep)
Right after you press record, press play on your audio file
Press the sound box record button again to stop recording (it will beep again)
Test your recording by pushing the play/stop button at the end of the blue wire on the EZSound Box
Want to Create a Personalized Wilton Gingerbread House Kit?
Need some design inspiration for gingerbread crafts? Country Living has an impressive slideshow of over 40 of the best gingerbread house ideas with tutorials. Recreate embellishments you like while using the materials in a purchased kit, or, if you're a pro, make everything from scratch using the tutorial how-to instructions. Your friends and family will love seeing your baking and advanced icing skills on display.
But you can be creative with a kit too—the Wilton Ready to Decorate Kit shows two design options on the box, but you don't have to follow either. The kit comes with the pre-assembled house (which is already attached to the cardboard base), white frosting, a piping bag and tip, red and green mini candies, red and green swirly peppermint candies, and green fondant. For my design, I used some spare white icing I had in the cupboard. A butter knife, scissors, and rolling pin to flatten the fondant came in handy also.
I wanted to have a green fondant roof, but cutting out individual shingles like one of the examples on the box showed seemed too tedious. So I rolled out the fondant and cut pieces to fit each roof panel. Sticking it to the roof was pretty easy; the fondant holds fast with just a little pressure and warmth from your hands. I had some extra fondant left from the kit, so I shaped it into two pine trees and added some snow accents with the white frosting.
I waited to complete the roof until I was finished working with the frosting and candies to make a door, windows, and sweet embellishments. Then I applied and scraped off some white frosting to make it look like there was snow and frost caked on the roof and added a drippy design with icing over it. See? Creativity with a kit! Though it doesn't look tidy, I like the frosty, realistic appearance of my personalized gingerbread house.
You can really do whatever you want with the materials provided—even use any decorative edible candies and sprinkles you have accumulated in your baking supplies cupboard. Wilton also suggests dusting the house with powdered sugar to give the snow a fluffy appearance.
Adding the Sound Box to Your Design
Since the kit comes with the house already assembled, I couldn't hide the sound box on the inside of the gingerbread house. I used double-sided tape to attach the play button to the cardboard base on the side of the house and ran the extension wire along the base of the house and around the corner to the back.
Regular tape worked fine to hold the extra wire to the back of the sound box, and then I adhered the sound box speaker to the cardboard base with more double-sided tape.
After I secured the sound box and button, I used a lot of frosting to create snow drifts to hide the wire. You can still see the button at certain angles, but at least it's white and blends in with the snow. I also placed the fondant pine trees in front of the button to hide it. Wilton includes plenty of white frosting in their kit, so I used it to create snow all around the house on the cardboard base.
I can't wait to show off my musical gingerbread house to friends and family over the holidays; I know several youngsters who will love pushing the sound button to hear a pretty Christmas melody.
Get Sound Boxes for Your Gingerbread Crafts Today!
Purchase EZSound Boxes to record your favorite Christmas songs for gingerbread houses this holiday season! Don't forget to share your creativity on social media—use #invitebyvoice and tag us @invitebyvoice. We'd love to see—and hear—your favorite way to spread Christmas cheer!
Quick links
Contact
Invite By Voice LLC
9935-D Rea Rd, Suite 230
Charlotte, NC 28277
info@invitebyvoice.com
About us
Since 2009, it has been our firm commitment to offer the highest quality sound products, and also provide excellent service for our customers.